[ LED ] [ Cross Section ] [ Inside Base ] [ Bottom Cover ]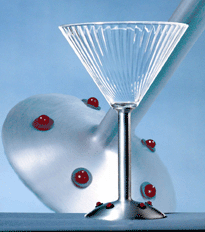 This techno-celebration glass has a crystal-clear polycarbonate top and a brushed aluminum base. The bright red LEDs can be set to blink randomly or sequentially.
The top is removable, replaceable and dishwasher safe. This innovative feature allows one stem and base unit to be used with a number of different glass styles. The first glass style we are offering is based on the fashionable cocktail/martini glass, which has been chosen as our flagship drinking vessel. Other colors and styles such as Wine, Flute, and Margarita will be available early next year.
The cup has a replaceable battery that lasts for over 100 hours - plenty of time for Millennium parties with fun left over for rest of the year.
This intriguing product has been described in many different ways, but comments are always accompanied by a smile. "Hey!! KOOOOOOL I want it!", "Awesome", "Way Groovy" "Is it Y2K compatible?" "Post-Industrial" "Now that's the glass for the New Millennium." The response to this product has been incredible. The Millennium Cup is guaranteed to generate smiles well into the New Millennium. It is great for fun at home, it is great as a gift, it is completely remarkable as a promotional giveaway. People will talk about this product and they will certainly remember where they first saw it.
Please see our other pages which demonstrate how the Millennium Cup is constructed.
Information about prices and availability can be found on our Retail Outlets page.